They devoted themselves to the apostles' teaching and to fellowship (koinoinia), to the breaking of bread and to prayer." Acts2:4
Acts 2:42 describes how the first converts devoted themselves to the fellowship, to koinonia. This does not mean the informal aspects of church life – the bits before and after meetings. Koinonia is, by definition, purposeful and includes everything that we are called to do together as Christians. This is why Acts identifies the church as the fellowship. The new converts were not devoted to informal conversations but to sharing together in a dynamic, purposeful body. True fellowship can only be expressed within a body which is clear about its identity, purpose and function.
We see the new believers of Acts chapter 2 meeting daily in the 'celebration' gatherings that took place in the Temple courts and also in the 'cell' meetings in their homes. Fellowship was expressed in both these kinds of gatherings. That was one of the secrets of their success. The home meetings included table fellowship, which would have been an opportunity for celebrating the Lord's Supper. They met together in these groups for evangelism and edification.
We are 'living stones' (1 Peter 2:5), community and connection are the cement that bonds us together, building the kingdom of God here on earth. Over this summer period let us continue living by koinonia principles strengthening our spiritual relationships for the purposes and glory of God.
The prophet Elijah was not just speaking into his day and generation Colin Dye shows how he is also our model. When we rebuild the altar of the Lord in our lives we make a place for the one true and living God who answers by fire to manifest himself.
Elijah the prophet lived at a time and in a land when there was no fear of the Lord, a place not so very different from our nation today. It seemed to him that he was alone in declaring never to bow his knee to the foreign gods, but he was mistaken. With church attendance in apparent decline, the UK needs a prophet like that now. But rather than raising up a single man or woman as a figurehead God wants to pour out his Spirit upon all of his people today.
The apostle James encourages us that this is possible when he wrote, "The effective, fervent prayer of a righteous man avails much. Elijah was a man with a nature like ours…" (James 5:16-17), anything is possible when we give our lives to God.
1 Kings 18 tells how Elijah went on the offensive, challenging Ahab and the prophets of Baal to a spiritual contest. When the gospel is under attack we defend it, showing clearly that God is alive and active today and that Jesus was not just a man, he was the son of God raised from the dead; because when you look at the facts it can be plainly seen that Jesus was and is everything he claimed to be. But Elijah was not planning to make a defence as if he were answering the critics, he was turning the tables on the devil.
Today, when we see Jesus under attack we must remember that God always has a remnant, a people who are ready to follow him - and let us be included among them. If that is to be the case, we are going to have to see the altar of the Lord repaired in our generation. Although Israel had two shrines with golden calves where the people worshipped, on Mount Carmel there was an altar that was used to worship God in purity. This was one place where prophets and people could go and commune with him. However, at some point somewhere that altar fell into disuse.
Let me challenge you, is the altar of the Lord in good repair and functioning well in your life? Are you preserving your relationship with God so that it is the most important thing to you to the extent that you know that whatever happens, you will remain surrendered to him? This is what the apostle Paul was talking about when he said, "I therefore as a prisoner of the Lord beseech you by the mercies of God that you present your bodies as a living sacrifice wholly unacceptable to God" (Romans 12:1).
The altar of the Lord is that place of consecration revealed not in church services on Sunday but on Monday morning when you go out into the rough and tumble of the real world, where no Christian eyes are on you. As we repair the altar of the Lord in our hearts the fire of God is going to hit our lives in a visible way. Recently, I have been speaking to a lot of non-Christians and hearing what they have to say, and I am struck by how totally consistent they are with what they believe. Most of them that believe if there is a God he's not really interested in how they live. And they really believe that they have the right to live their life on their own terms. All of us must choose, if we believe that Jesus is Lord then we should serve him wholeheartedly, but if anyone has other values that are more important and stronger and require their devotion over and above Jesus then they should say so – keeping a foot in both camps is not acceptable!
Elijah presented his challenge: both he and the prophets of Baal were to prepare a sacrifice. There were to be no matches to set it alight, and the God who answered by fire would be very clearly demonstrated to be the one true and living God. The prophets of Baal prepared their sacrifice and continued their rituals all through the day until evening but there was no response. Why? Because there was no one there. The gods of the nations are non-existent gods, they cannot speak or act. And Elijah began to mock them.
Then it was Elijah's turn. Wouldn't it be amazing if God gave us an 'it's our turn now' moment it? It seems that for generations it's been other people's turn - the pagans, the false religionists, and the people who pollute the minds of our young people. When God says that enough is enough it is time for the church to rise up, we need to be ready to step up to the plate and declare that the Living God answers by fire.
The first thing Elijah did was to call the people to gather around, then he took twelve stones and repaired the altar of the Lord. If we want God to answer by fire we've got to repair the altar of the Lord: rebuilding the place of consecration, the place of devotion, the place of pure worship and the place where we say there is no God but Jesus.
How can we repair the altar of the Lord in our life? By restoring pure devotion, that non-religious longing for God. This is not just about doing what you feel like doing, there's got to be a kind of discipline so there is some structure in your life. But it's not about screwing up all your own energy to try and attempt something in your own strength that only God can enable you to do. We have to flow with the grace of God and let our lives be taken over by the Holy Spirit, because it is only the Holy Spirit that can move us in the direction of God.
When Elijah prepared the sacrifice he wanted everybody to know that what was about to happen was from God so he asked them to drench the altar with water several times until it was absolutely dripping wet. Then Elijah stepped back and cried out to the Lord, asking him to reveal himself in answering by fire. So fire fell licked up all the water, burnt up the sacrifice and everyone fell on their faces and shouted, 'the Lord he is God'. As the fire fell and everyone present declared that the Lord is the one and the true and the living God. And then the rains came, meaning that God was now ready to bless the land as the hearts of his people had been restored and returned to him.
Imagine your life, as God intends. What would you look like? Are you prepared to do what it takes to make that a reality?
God has given us this life as an opportunity to do something spectacular for Him. Whether these are mature or are still in seed form, each one of us have unique qualities, gifts and a purpose. Be it starting and growing your own business, being an effective worker, an inspirational leader, building a healthy family, or taking on a social outreach agenda – you are called to make a difference. You know deep down, you're made to leave a mark on this world. But what does He require of you to make this all happen?
You might think that a commitment to Bible knowledge might do the trick. Or regular giving. Or regularly coming to church. I want to challenge you to imagine what would happen if you were to go all in. Being wholeheartedly available, like Joseph (who became known as Barnabas) who "brought (everything) and laid it at the apostles' feet" Acts 4:37 (ESV). This way of living doesn't happen overnight.
It begins with a step. God will more than meet you with a running jump. You may have expectations, or prescriptions, but He will explode that old way of thinking, and do something so profound in your life, you literally will not be the same again.
Will you consider giving six months or a year of your life to see total transformation?
"When I came to Bible college, I thought I would get to know the Bible better, but I am amazed at how much more than that God has done in me! I know Him much better, I know His Word, and the teaching has had a deep practical impact on many areas of my life. I would like to encourage everyone if you have not attended Bible school to seriously consider it – it's not just a qualification, it's life changing." Dwaine Morgan, first year IBIOL Student
Connecting to the source of Life
For many Christians, Faith is just a small segment of life. Knowing and walking with God is about so much more than ticking the religion box. Taking the time to disconnect from 'business as usual' to intentionally deepen your walk with God in every area has untold ramifications for you. You're literally plugging your life into the source of all Life. Day by day you have opportunities to be in His presence, to think differently about your God and His salvation, to experience the joy of relationship as you see the world with a new perspective, and to rely on the new strength that floods your life as you grow in the fruit and gifts of the Spirit.
Walking in peace and purpose
The gospel of Jesus Christ empowers us to live a new life in Him. Experience forgiveness like you didn't think possible. Deal with the cyclical issues which hold you to the past. Make peace with God and experience a new freedom on the inside. Commit to walking a new path where you say yes and no with integrity, and find His deep and lasting peace in the process. Ground yourself in the word in new ways which will provide food for the journey. Discover the plan of God for your life and walk in it boldly by faith.
Living with and loving your mission field
Learn to walk out your faith in practical and relationship changing ways. Whatever your mission field, you are called to release the love of God into that environment. This means a commitment to relationship and forgiveness so that you can shine light into different situations. We have a strong desire to both release business people and ministers into their areas of effectiveness for God. We teach you to do that passionately and compassionately with new communication skills, and a deeper understanding of different perspectives and world views.
Intentional community
This hunger for real life connections particularises in building relationship with a core group of men or women with whom we walk discipleship. This pastoral care element is essential for transitioning the classroom into daily life, and makes all the difference.
Taking it on Mission
Put everything into practise with an end of year mission. Recently one student was trying to find the purpose of going on mission, not feeling they connected with the need of the people. After helping them see this was about them - realising practically all that God has done in their lives and wants to do through them, they've decided to keep leaning in. As you read this, our students will be fresh back from the mission field, and ready to go into their harvest here in London. They've taken their step. Will you? Come and be inspired by their stories at the Graduation Service, Sunday 3rd July at 6pm. OR Contact us to find out how you can take your first step on a life changing journey! Call 020 8799 6162 to speak with Ben or Michelle, or email us on ibiolinfo@kt.org See www.ibiol.org for full information on how to apply for September 2016.
A nyone who walks into Kensington Temple on a Sunday will see our mission statement London and the World for Christ written boldly on the screen. Over the next couple of months Revival Times will be hearing from the IBIOL student team that travelled to Romania and the Pierres Vivantes who have been in The Democratic Republic of Congo.
As well as sending teams our Senior Minister Colin Dye is broadcasting four times every day on The Kingdom Sat. These programmes are having a huge effect spreading the gospel message and delivering strong Bible teaching to nations where we cannot always send a team. One of those nations is Algeria where so many are coming to Christ that there is a great need for trained leaders. Our contacts Pastor Youssef and his wife Hee Tee are meeting that need through the Timothy School. They are in the process of erecting a purpose-build centre for preparing workers for the harvest. Pr Youssef recently sent us this story that describes how the power of God is at work in Algeria, "One brother very isolated in his home town, came to know the Lord by the Christian TV channel. He prayed to God to inspire him to reach out the people. He has a lorry, so he wrote the word "Hallelujah" on the side. People were coming to him to ask what it meant, so he started to share the gospel with them. He has brought 42 Muslims to Jesus, so far". You can read more about this work in the book As Fragile as an Egg? available from the KT Bookshop (price £7.99, all proceeds go directly to Algeria)
Here are another four testimonies of people also from Algeria who have contacted The Kingdom Sat after watching their programmes. They are just a small sample of those across the Middle East and North Africa who are meeting Jesus in their homes through television.
Mohammad
Mohammad is thankful for The Kingdom Sat programs and praises God for what He has done in his life through the channel. Mohammad and his family are believers, but his wife had been demon-possessed and struggled with anger and suicidal thoughts. The pastor of their church prayed with her couple of times and visited her at home. Two months ago while they were watching the TV, they found Kingdom Sat. They began to watch its programming regularly. Mohammad's wife became calmer and her life has since been transformed; she praises the Lord all the time, worships God at church and shares her faith with others. She also tells her friends about The Kingdom Sat and encourages them to watch its programs. Mohammad shared that God has used the channel to bring a miracle to their lives!
Malika
Malika secretly watching The Kingdom Sat programming without the knowledge of her husband. She called the follow-up team sharing that though she is a Muslim and covers her hair, she knows that Jesus is the way and the truth. She thanked them for the programs and asked that they pray for her.
Saed
Saed contacted The Kingdom Sat follow-up team requesting prayers for his daughter. The Lord answered his prayers and healed his daughter. This led him to realize that Jesus is the King, the Way and the Truth. Saed is hesitant to accept Jesus as His personal Saviour as He is afraid of his family and his friends but the team is in contact with him.
Hameed
Hameed is a Muslim who heard about Jesus through The Kingdom Sat. He watched its programs and decided to call the follow-up team. Hameed shared that every time he watches the channel he feels that God is near. The team shared the gospel message with him. They met him and gave him a Bible. Hameed and his family decided to give their lives to Jesus. They prayed and accepted Him as their Savior. Hammed shared that he works as a police officer and he is afraid that others might know about his faith. The follow-up team continues to visit and disciple Hameed. ❖ Thank you to everyone who is supporting this vital work both financially and in prayer, if you would like to have details about how you can give please email ktfinance@kt.org
Daniel Perez meets Daniel and Davinder, two men who have experienced first-hand the results of being obedient to the prompting of the Holy Spirit.
Daniel
I work as a personal trainer but in November 2015 I was struggling to sign up new clients. I was falling behind with my rent and other bills. In February this year my landlord called to inform me that I had a week to pay the arrears on the rent or I will be kicked out. On that same day, which was a Friday, we had a cell down-line fellowship. I told my cell leader and fellow cell members of my situation and they started praying for me. On the Monday I was working hard to sign new clients, but nothing happened. Tuesday was also another dry day. Wednesday was approaching, I only had 3 days to pay or I would find myself homeless. One of the cell members who was not present at the down-line fellowship contacted me and offered his financial help. He asked the amount that I owed then, without hesitating, he transferred the full amount into my bank account. He said his own business had been flourishing and was waiting for an opportunity to bless someone.
Davinder
I'm volunteer as Bible Secretary, Treasurer and Chaplain of The Gideons Westminster Branch, and was involved in delivering 10,000 Bibles to hotels in London during a scripture distribution in 2015.
In March this year my family and I toured Thailand to celebrate the sale of business and I was pleasantly surprised to see dual-language Gideon Bibles in every hotel we visited whether on Phuket Island, in Bangkok or the north of the country. I did not see a single Buddhist scripture in two weeks!
On the last leg of our tour we were joined on the road by two young guys visiting from Milton Keynes and we spent three days together. I had a quickening of the Holy Spirit and became aware of something of God in this and redoubled my determination to honour him in those days, praying for witness opportunity. Someone had placed a Gideon Bible in my hand luggage that morning but wouldn't admit to it – I remarked we are supposed to distribute them not the other way round!
In the next few days again I refrained from entering any temple and countered Buddhist assertions about universal time being cyclical and ideologies like reincarnation etc. One day I was reading the Bible while everyone else on the bus was asleep. The Brits woke up and asked me why I didn't enter the temples so I shared my testimony – pointing to several Bible passages from heart. One asked me to bookmark the pages and gratefully received the Bible that had been mysteriously added to my luggage remarking he'd been brought up as a Christian and was going to follow-up again back in UK.
The second man said that he was a staunch atheist but realised he'd never given any thought to God and would investigate the Christian faith back in England. I turned to my eight year old son Jaisal and said it's a small miracle for an agnostic to determine to become a follower and an atheist to become agnostic in a short time and I still didn't know who put the Bible in my bag. Jaisal then told me that three days before even meeting them he had put it in my luggage because he knew one of the men would want one!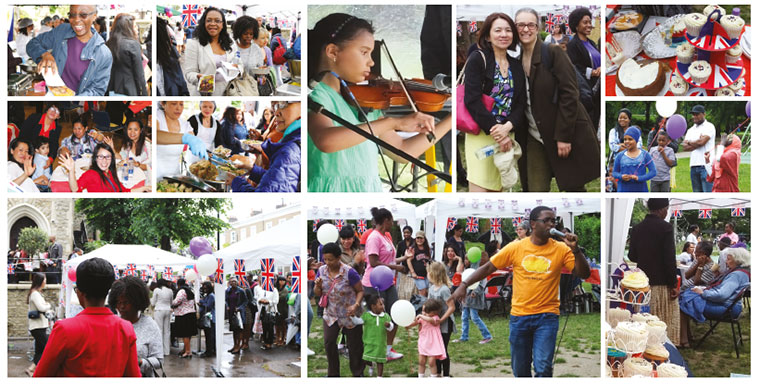 Following our massive May celebration of Colin and Amanda's 25th year of senior leadership at KT, we headed into our second major fun weekend and would not be outdone in celebrating her majesty's 90th birthday weekend. Immediately after Trooping the Colour took place at Horse Guards Parade on Saturday, it was our turn to host the community at Avondale Park. Over 100 of our neighbours at North Kensington joined our tea party-in-the-park with cupcakes, face-painting, loads of outdoor games, and a live concert. We observed lots of smiling faces, made new friends, and had a terrific time under sunny skies.
Our Sunday street party, joining with the rest of the country, started with downpours as we set up our car park for our International Food Fayre. Then the rains stopped, the sun peeked out, international flags and the union jack flew, and neighbours joined us in both the car park and lower hall as we downed huge amounts of Zimbabwean BBQ chicken, Jolof rice, Indian Curry, Caribbean goat roti and fried chicken, and Filipino Afritada with funds raised for good causes. Thank you to the army of volunteers that worked behind the scenes with the catering, serving and decorating to make this memorable KT-unique weekend happen.
Tackling the Giants: Influencing your world Jonathan Gwilt, KT Finance Director, explores one of the key areas that arises when Tackling the Giant of Thought and Philosophy.
At the heart of Christian faith is evidence – from eye-witness accounts documented in Scripture, early historians and Church Fathers, archaeology and 2000 years of church history, lives of countless millions of witnesses today and from creation itself.
Yet alongside this, another narrative has gained ascendancy; that faith is, at least according to Webster's dictionary, "firm belief even in the absence of proof". This has developed to such an extent that we are taught that fact and evidence reside in one domain of understanding whilst faith and belief are to be categorised in quite another. Some develop this further to claim that faith in God is 'blind faith' - believing where there is no evidence - that it is imagined, irrational, even delusional, such that it must be confined to silent private experience and kept out of the public sphere altogether. Moreover, believing faith and factual evidence are portrayed as inimical, contradictory, pulling in opposite directions, with faith to be kept out of (most) classrooms.
So how do we reconcile these two views? First, it is interesting to note that this definition of faith is only applied to faith in God. This is nothing more than the religion of atheism at work, denying the existence (or morality) of God and pitching these two as false alternatives – that you have to choose between faith and fact. Moreover, this view of faith seems to ignore that everyone, even atheists, use faith every day – every time we eat, travel, work or relate to people we exercise faith. At the heart of these actions is evidence, based on our Cumulative Acquired Knowledge and Experience (or CAKE!), which brings with it both notional confidence and relational confidence. Quite simply, without faith, we as individuals and society as a whole would cease to function because at the heart of faith is trust, loyalty and confidence built upon evidence. To dismiss it as irrational is like sitting on the branch of a tree whilst sawing it off at the trunk.
So if faith and evidence are not incompatible, as some would hold them to be, what is the relationship between them in the context of faith in God? In Hebrews 11:1 we learn that "Faith is the substance (or realisation) of things hoped for, the evidence (or confidence) of things not seen." The word used for faith here means 'firm persuasion', a strong conviction based on hearing (Romans 10:17) and being persuaded by the evidence for it. Throughout scripture, God continually revealed himself to humanity culminating in the life of Jesus and the sending of The Holy Spirit. He told the disciples, the eye-witnesses, to go and tell others so that they also could believe. When Thomas doubted and made his faith conditional on receiving physical, first-hand evidence, Jesus did not deny him this but offered it to him with the corrective that faith comes from hearing the truth, not mere sight. Here we see that New Testament faith is evidence-based. The question is what kind of evidence is it and what kind will people accept?
God desires for people to have faith in him, to put their trust and confidence in him, in his goodness and faithfulness. He wants this to be the most natural and central part of human life. Far from denying us evidence he has provided it all around so that anyone may consider it and believe. God is the great initiator, the evidence-provider and the one who has also created within us the capacity to receive and believe. So in the light of this, which comes first, faith or the evidence of which it comprises?
Rob Parsons OBE, author and broadcaster, exhorted men to put love and relationships first at the Heart of Success tour event that attracted a few hundred men to KT on Saturday morning, 18th June.
Today Parsons leads Care for the Family, but looking back at the time when he was a senior partner in a law firm, he regrets not putting his family first. "I have taken thousands of business calls, but I can't remember a single one that couldn't have waited for ten minutes to finish a bedtime story", he said.
Parsons said that at the heart of success is understanding that God loves you. He also spoke about the importance of having mentors that believe in you and helping one another to reach their dream.
Ryan Morton, a weightlifting coach, the founder of Champion Lift Ministry and former 2 times British champion at Olympic weightlifting, ran a weightlifting competition.
Gerrit Bantjes, a former professional rugby player and fitness coach at Cardiff Rugby Club said that men are tougher than they think and capable of more than they imagine when they stand in Christ. He also spoke on how men can keep themselves from dangers such as affairs through building godly disciplines.
"If you want to succeed in life, you have to take the shot", he said. "Disaster and triumph are often only one yard apart."
The event was organized by MPower, Elim's national men's ministry. Our Associate Minister Bruce Atkinson is a member of the MPower leadership team.
Every man attending the event got a free copy of The Heart of Success book by Parsons. ❖
NewsWatch informs you about current events so that you can pray effectively. Your prayer today has the power to impact the headlines of tomorrow.
Church of Scotland recognises ministers in gay marriages
The Church of Scotland has voted to recognise ministers who are in gay marriages. The Kirk voted through the change at its six-day General Assembly with 339 versus 215 against.
Congregations who do not want ministers in gay marriages do not have to appoint them if they don't want to. Ministers will also not be able to perform gay marriages, however the General Assembly has commissioned a report exploring whether the Church of Scotland should perform them.
Source: premier.org.uk/news
UK 'should have a Christian university'
Professor James Fraser, who was awarded a CBE for his services to higher education in Scotland, says the country should move away from the "radical secularist" attitude at some universities. In a speech at the Free Church of Scotland's General Assembly he said Scotland should have universities that teach from a Christian perspective, like those in the United States.
"A Christian university would teach and research within the pre-suppositional framework of a Christian worldview," he said. "The Scottish Government should rethink the financing of universities to enable a more pluralist system. Scotland has some of the most excellent universities in the world but needs to offer more variety and greater competition."
Source: premier.org.uk/news
Independent review into Sharia Law launched
The government is remaining defiant over calls from a group of humanists for Religious Education lessons to give atheism an equal footing with Christianity. The Department for Education (DfE) is branding a report by the British Humanist Association (BHA) "inaccurate", adding it has "no official status". The DfE was speaking after the BHA warned that government guidance risks promoting illegal RE classes by going against a ruling by the High Court last year that religious and non-religious worldviews must receive equal treatment.
The BHA is accusing the Government of unfairly attacking teacher guidelines distributed by the BHA last month which – it claims – sought to explain the implications of the High Court ruling for RE syllabuses.
The High Court case ruled in favour of three humanist parents who challenged the way non-religious worldviews were covered in the syllabus for GCSE Religious Studies.
Source: www.gov.uk
Government defiant amid calls for more atheism in RE lessons
An independent review into the application of Sharia Law in England and Wales has been launched by Home Secretary Theresa May. The review will be chaired by Professor Mona Siddiqui, an internationally renowned expert in Islamic and inter-religious studies.
The Home Secretary committed to an independent review of the application of Sharia Law as part of the government's Counter-Extremism Strategy. There is evidence some Sharia councils may be working in a discriminatory and unacceptable way, seeking to legitimise forced marriage and issuing divorces that are unfair to women.
The terms of reference set out the review's intention to explore whether, and to what extent, the application of Sharia law may be incompatible with the law in England and Wales. It will examine the ways in which Sharia may be being misused, or exploited, in a way that may discriminate against certain groups, undermine shared values and cause social harms.
The panel will begin work immediately and is expected to complete its review in 2017.
Source: premier.org.uk/news
Hello from Seoul: Christian defector broadcasts the gospel into North Korea
For an hour each day, Kim Chung-seong, a defector from North Korea and a Christian missionary, takes to the microphone in a small Seoul studio. At 1am, his show 'Hello from Seoul, the Republic of Korea' sends a mix of gospel music and news into North Korea.
North Korea strictly bans access to outside information. One weekly guest, defector Ko Ji-eun, said she was a fan of Kim's show while hiding in China for several years. After she arrived in Seoul last year, Ko met a fellow defector who had listened to the show while inside the North last year and has since fled to the South.
"North Koreans are now using Chinese earphones not to expose themselves to authorities," Ko said. "Many people inside North Korea are listening to this radio a lot."
Source: christiantoday.com
Ethics committee greenlights UK gene editing
A British ethics committee has greenlighted the use of human embryos for genetic research. Dr Kathy Niakan of London's Francis Crick Institute was given permission by the Human Fertilisation and Embryology Authority earlier this year to edit single genes, despite international criticism.
The Cambridge Central Research Ethics Committee, the relevant regulator in this case, has now given Dr Niakan the goahead, making the UK the first country to approve gene editing and only the second to attempt it. China previously experimented on embryos but this was not approved by a regulator.
The new technique, known as Crispr-Cas9 (CRISPR), is thought to be able to edit single genes, by making the 'faulty' gene inactive or replacing it with a healthy copy. This would alter the DNA of an embryo.
Source: christianconcern.com