Two ground-breaking ministries for a new generation of KT disciples!
"God is raising up a new KT Joshua Generation to bring in the Glory of the latter house" One of the well-known prophecies in regard to Kensington Temple's future is Haggai 2:9 "The glory of this latter house shall be greater than the former". It is our firm conviction that God wants to raise up a new KT Joshua generation to win and disciple our city. Of course this new generation of disciples will come from all ages from 5 years old to 95 years young! But we do feel that a special emphasis is coming from the Lord to disciple our Young Adults and Teenagers to be at the forefront of our ministry as a church.
From March we will be focusing on launching two new ministries. On Sunday mornings we are changing what was formerly known as The Cause to KT Nu Gener8ion, and on Friday evenings we are launching an electrifying night out for all Young Adults called KT Friday Nite Live!
KT Nu Gener8ion
What sort of 16 year olds do we want at KT?
KT Nu Gener8ion (every Sunday morning 11am) will focus solely on the 14-16 teens. There will be a two year curriculum devised that will produce strong KT 16year old disciples ready to transition into 'Young Adult cells'. A 16 year old is considered an Adult at KT from now on.
A two year curriculum has been devised to produce the new generation of Faith filled, Fire baptised, Biblically intelligent, sacrificial disciples that will carry the future destiny of KT in its hands. In the context cell groups subjects will include Discipleship cell vision, Sexuality ,Marriage and family, Apologetics, Faith, Christian work ethic, Evangelism and Mission, spiritual gifts, communication, Christian citizenship etc.
A key element of the curriculum is to prepare the teen cell groups to become Young Adult Cells after two years.
KT Nu Genera8ion takes place at:

Rugby Portobello Trust
221 Walmer Road
LONDON
W11 4EY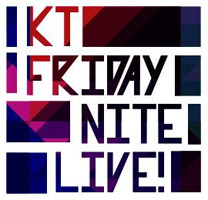 KT Friday Nite Live! And Young Adult cells
The Young Adult cells are for 16year olds and over, they are fully adult cells that are involved in the KT men and women's nets. However the Young Adult cells will express themselves at the Friday night Young Adult service called KT Friday Nite Live! which will be tailored to meet their needs and reach out to their unsaved friends. The Sunday service for Young Adults will be the Holy Spirit Ministry service 7pm where they will be encouraged to participate in revival anointing, soul winning, prophetic ministry and spiritual gifts. It is expected that many of them will join the Ministry team and become proficient in Revival ministry.