Keynote: The power of thanksgiving
"Rejoice always, pray continually, give thanks in all circumstances; for this is God's will for you in Christ Jesus." 1 Thessalonians 5:16-18
The cultivation of a grateful heart is essential to successfully living a fruitful life for God. Prayer with thanksgiving keeps you spiritually healthy and strong! The old hymn states "Count your many blessings, name them one by one, and it will surprise you what the Lord has done". Do we focus too much on problems and difficulties, forgetting about all the good things that the Lord has done for us? This can lead to excessive pessimism if we aren't careful.
We face our challenges head on, but at the same time we should celebrate every victory and blessing that God gives to us. Prayer regarding difficulties and obstacles should always be with a strong element of thanksgiving. Our motivation for serving and obeying the Lord's commands should arise out of a heart genuinely grateful for all Jesus has done for us – thankful people are obedient people.

Each November North America celebrates a special Thanksgiving Day. This tradition began with the early Puritan settlers in the 1600s who, fleeing persecution in Britain, paused from daily life to thank God as a community for the harvest and the blessings of another year. In a sense Thanksgiving Day should be every day for a believer shouldn't it? But it's still good to have an extra special focus on thanking the Lord throughout November.

Join us for our special Thanksgiving service on Wednesday 22nd when we share testimonies, bring non-perishable food for those in need, and give a special freewill 'thank offering' for everything God has done in the last year.
Let's make sure this November that in all our cell groups there is a special emphasis on thanksgiving, especially for the fruit of our 20:20 Vision so far in 2017.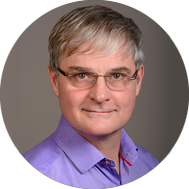 Colin Dye
Senior Leader
facebook.com/colindye.org 
colindye.com

Bruce Atkinson
Associate Pastor
bruce.atkinson@kt.org
Colin Dye Senior Minister Follow Colin Dye on: www.facebook.com/colindye.org and his blog: www.colindye.com God has a fun side. Don't you think that God had fun striping the zebra, stippling the leopard and designing the elephant? If that doesn't convince you, look at...